Our team of testers ran in 42 new sports bras and selected 15 favorites that deliver reliable stability with comfort, breathability, and flair.
DISTANCE PROS
Streamlined bras that fit like a second skin.
Zensah Seamless Running Sports Bra
This minimalist pullover doesn't chafe, trap sweat, or call attention to itself. It simply provides low-fanfare support for smaller-busted runners. The secret? Various features are knitted seamlessly into the fabric: The back uses an airy honeycomb texture to wick sweat, sturdy ribbing on the sides and bottom band deliver support, and thin, stretchy fabric across the breasts provides long-haul comfort.
Best for: A-B cups
$40
CW-X Performx Running Bra
Most basic pullovers don't offer adequate support for C-cup runners, but this delivers outstanding stability—without overdoing the fabric's thickness. An asterisk-shaped "support web" that's built into each cup minimizes bounce while keeping the fabric thin and light enough for hot-weather workouts. Sleek and smooth, this racerback eliminated chafing on testers' longest runs.
Best for: B-C cups
$40
Lululemon Enlite Bra
Yes, the price is shocking—but large-breasted testers said they planned to buy more. Why? No pressure points or anything digging into their skin, just soft support allowing full, deep breathing. Molded cups flatter full figures yet are thin enough to prevent clamminess.
Best for: C-DD cups
$98
FLATTERERS
Celebrate your curves in style.
Adidas CMMTTD Chill Bra
Testers enjoyed superior support, thanks to molded cups that secure breasts close to the body but don't flatten curves entirely–there's enough separation to ensure a feminine silhouette. They also manage moisture better than most molded designs, thanks to a fabric coating that cools the skin and a ribbed bottom band that wicks sweat.
Best for: B-C cups
$60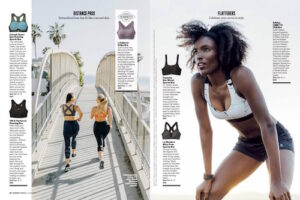 Le Mystère Wire-Free Sports Bra
Though it looks like lingerie, this racerback proved itself during speedwork and marathon training. Mesh panels on the back and between the breasts dump heat, and the molded cups are lined with sweat-wicking fabric.
Best for: B-D cups
$62
Panache Non Wired Sports Bra
D+ testers ravedy: This bra looks and feels fabulous. Comfortable straps convert between straight and racerback styles. Nonconstrictive support let testers breathe freely, and the back closure is easy to operate (no wrestle-fests here).
Best for: C-E cups
$68,
SHOW-OFFS
Stylish bras that need no cover-up.
Nux New Strappy Bra
Strong colors and sassy straps keep this bra from looking like underwear. It also placed best in test for comfort: The super-soft fabric prevents chafing and feels great after the workout ends. Even the removable modesty panels earned props, because "They actually stay in place in the wash."
Best for: A-B cups
$62
Nike Indy Block Logo
"This is my go-to now," says one tester, who loved the simplicity of this bra—and that its patterning is bold enough to wear alone. Adjustable straps customize the racerback and make this top feel like a second skin, but only the mesh back panel provides much breathability: The overall fabric is slow to dry and felt soggy on long runs.
Best for: A-B
$50
Oiselle Gifted Verrazano Bra
Comfort made cute: Four stylish shoulder straps distribute the breasts' weight and adjust to customize fit and support. That novel design reduces bulk (and the chafing that often results) by letting you move the clasp up or down into a series of "rungs." But some testers didn't like having the strap ends sticking out, which looked funny under shirts—and made this bra better for standalone wear.
Best for: B-D
$60
VENTILATORS
These bras really beat the heat.
Salomon Medium Impact Bra
With airy mesh panels in between the breasts and under the arms, this seamless pullover dissipates sweat fast. The extra-wide bottom band provides support and pairs comfortably with a heart-rate monitor. Downsides? The removable modesty pads migrate out of place, and the compression fit creates a uniboob.
Best for: A-C cups
$48
New Balance Trinamic Bra
Laser-cut vents on the back and between the breasts keep clamminess at bay, and the lightweight fabric dries faster than any other bra tested. Plus, this basic pullover is more supportive than most, because the side panels and shoulder straps use a stiffer, less-stretchy material.
Best for: A-C cups
$60
Anita 5544 Active Air Control Wire Free Sports Bra
Bras that truly support D+ runners rarely breathe well, but this marvel combats bounce and sweat. The all-mesh construction dissipates heat, and ultralight terrycloth (lining the bottom band and the middle of the cups) mops up moisture like a bath towel. The design also hides headlights—without using sweat-trapping modesty pads. And the individual cups encapsulate breasts to control bounce and provide a flattering look.
Best for: B-DD cups
$79
MULTI-TASKERS
Simply, the jills-of-all-trades.
C9 Champion Seamless Strappy Back Bra
This bargain hit all the notes: It's comfortable, cute, and supportive. The elaborate straps created no hot spots, and its breathability kept wearers reasonably cool during steamy runs.
Best for: A-B cups
$22
Brooks FineForm Sports Bra
Previous versions didn't offer enough support, but this year's FineForm earned testers' thumbs-up. Smooth underarm seams reduce chafing, the underband drinks up sweat, and slightly stretchy shoulder straps made this bra comfortable during workouts and afterward.
Best for: A-C cups
$50
Shock Absorber Active Multi Sports Support
"Zero bounce," declares one D-cup runner, who loved how this bra supports without smothering. The relatively thin fabric is breathable, the open back design provides good ventilation, and the soft bottom band stayed comfortable on long runs.
Best for: C-E cups
$70