If you're looking for a huge summer adventure that doesn't involve crowds or international travel, consider climbing the highest mountain in one these seven states. Trust us, they deliver the goods.
CALIFORNIA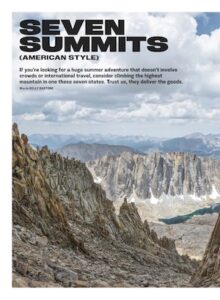 MOUNT WHITNEY, 14,505 FEET
Even if Whitney weren't the highest summit in the Sierra (and the contiguous United States), it might still rank as California's most stunning—which is saying a lot, given this state's prodigious scenic endowment. Viewed from the Whitney Portal trailhead on the mountain's east side, it looks like a soaring pile of granite meringue, with a deeply creased face surrounded by jagged towers that refuse to be gentled by buffing winds.
Many yearn to stand atop those spires, and because Whitney can be summited in one 10- to 12-hour day (and chased with pizza, beer and a hot shower down in Lone Pine) it attracts throngs of fit mortals. In 2019, 84,000 people applied for hiking permits, which are limited to 100 day-use and 60 overnight passes per day from May 1 to November 1.
A lottery system held every winter accepts pilgrims' preferred dates before awarding permits for the summer and fall (because hikers often hit the trail before dawn, full moons are popular). But Cris Hazzard, a SoCal local and hiking guide who blogs about his adventures at HikingGuy.com, says that hikers with flexible schedules can skip Whitney's lottery and nab unclaimed permits through recreation.gov. His 30 visits to California's highest summit have taken various routes—and mostly bypassed the lottery.
Hazzard has sometimes extended his trip to the top by backpacking to Trail Camp, a stark, rock-bound nest that "feels like Everest base camp because there are no trees, but there are a bunch of other people camped there, waiting to hike to the summit," he says. Backpacking can be a good way to avoid altitude sickness (multiple nights at altitude help the body adapt to diminished oxygen), but overnight permits are even harder to get. Thus Hazzard favors the two daylong routes from Whitney Portal: The 12.4-mile (round trip) Mountaineer's Route gains the summit via a steep, talus- filled couloir requiring Class 3 scrambling, while the standard route via the Mount Whitney Trail (21.4 miles round trip) delivers superior aesthetics. Says Hazzard, "The ridgeline hike to the summit lets you look down into Sequoia National Park to see Guitar Lake and the most beautiful parts of the High Sierra."
GEAR UP Salewa's Wildfire Edge approach shoes ($170) feature a sticky Pomoca outsole for smearing granite on Whitney's Mountaineer's Route. An edging plate beneath the toes creates a stiff, secure platform on small holds, but the shoe's flexy midfoot construction is optimized for on- trail striding. salewa.com
ALASKA
DENALI, 20,310 FEET
Perhaps Mount McKinley's clearest peer among iconic mountains is Everest, and even that famed 29,032-foot summit sometimes seems smaller than Alaska's loftiest perch. Better known as Denali, the mountain's proximity to the Arctic Circle means that climbers often experience brutally cold, -40°F temperatures in April and May (prime season). And its vertical rise is greater than Everest's: Climbers there gain 12,000 feet from valley to summit, while Denali's supplicants must ascend 18,000 feet to reach the top. That's big. Yet in the realm of expedition mountaineering, Denali represents a killer bargain, costing about $10,000 for a monthlong guided trip (compared to Everest's $75,000).
But you have to be prepared to throw down much more than money, says Joe Horiskey, an RMI Expeditions mountaineer who helped pioneer guided Denali climbs in the 1970s. When groups fail to tag the summit (about 25 percent of RMI's Denali bids) it's not due to weather—though climbers routinely spend up to 12 days holed up in tents at 14,000 feet, waiting for storms to pass. Instead, the limiting factor is toughness. "What gets people is a lack of physical conditioning or mental determination," Horiskey says. Other peaks in this story demand one hard day (or perhaps two on Rainier) but depending on the weather, Denali demands 14 to 30 of them.
The classic West Buttress route begins with a bush-plane landing on the Kahiltna Glacier, "and those views alone are worth the price of admission," says Horiskey. Then, hikers strap on 60-pound packs and haul sleds using both snowshoes and crampons on a multiday ascent that shuttles gear up the mountain as climbers adapt to increasing altitudes. From 7,000 to 14,000 feet, Denali is a low-angle winter camping experience on glaciated terrain where hikers complete a series of back-carries designed to grow their fitness and acclimatization. Above the 14,000-foot camp, "the complexion of the trip changes dramatically," says Horiskey, as climbers confront wilder weather and greater risk (like navigating 40-degree pitches without a fixed rope to gain the crest of the West Buttress at 16,000 feet). Summit day hardly backs off: Even without the heavy loads that burdened them earlier in the trip, climbers spend 12 to 15 hours (round trip) commuting between the 17,000-foot camp and the summit. The panoramas over Denali's rugged flanks are incredible. But the greater reward is an uncorrupted mountaineering experience that's increasingly difficult to achieve in today's high-traffic terrain. "It's such a pure summit," says Horiskey. "It's the last great adventure."
GEAR UP Snuggling into a warm sleeping bag may be your only creature comfort for weeks on Denali, so make it the Feathered Friends Ptarmigan EX -25 ($779). Waterproof fabric on the collar prevents exhalation moisture from dampening the bag, and 900-fill goose down delivers intense warmth for minimum weight (just 3 lbs 12 oz for regular length).
WASHINGTON
MOUNT RAINIER, 14,410 FEET
What's mesmerizing about Mount Rainier is its exoticism. No fewer than 25 glaciers drape across this perfect pyramid, making it look like an alien ice feature that dropped into the lush coastal conifers from outer space. It's shockingly huge and improbably white. And climbing it demands a whole new lexicon of mountain skills: No one simply laces up their trainers and strides to the crater rim. Instead, you've got to don crampons, ice axe and rope while rest-stepping your way around human-swallowing chasms in the ice. It's like climbing in Alaska—except that bagging this summit typically takes just two days. Consequently, Mount Rainier is where wannabe mountaineers cut their teeth. Guided programs often start with two days of skill-building (like learning to self-arrest with an ice axe) followed by two days up and back. May and June offer fewer crowds and crevasses but colder temperatures; midsummer attracts the most climbers but the route includes more awkward cramponning over patches of rock.
The classic Disappointment Cleaver (or DC) route from Paradise climbs and descends almost 2 vertical miles in about 30 hours. Groups first hike 4.5 miles to Camp Muir at 10,060 feet—but it's a short sleep. Rising at 2 a.m. lets climbers kick their spikes into cold, trustworthy ice (all bets are off after the sun warms it to mush). The on-ramp into the alpine is Cowlitz Glacier, then the Muir Snowfield and Ingraham and Emmons glaciers. Slope steepness hovers between 40 and 50 degrees. Climbing in the dark offers few distractions from your ragged breathing and fatigue.
Then the rising sun promises that the summit is near, and most climbers experience an energy surge. Steam wafting from the crater vents attest to Rainier's status as an active volcano (should it explode into eruption, its mudslides would engulf nearby cities). Wave to neighboring Mount St. Helens, Mount Baker and Mount Hood, which pierce the clouds you stand above. "There's a lot of elation up on top," says Peter Whittaker, who's summited Rainier 254 times (starting at age 12). "It teaches you how to put up with being uncomfortable," he says. And it underscores discomfort's eventual rewards.
GEAR UP Petzl's Glacier ($90) ice axe is perfect for climbing Mount Rainier: Its straight shaft makes it a secure handrail while rest-stepping, and its steel pick bites into the ice during self-arrest.
COLORADO
MOUNT ELBERT, 14,443 FEET
If Elbert were a comedian, it would be Rodney Dangerfield complaining, "I get no respect." No technical skills are required to reach this skyscraping summit, so even flip-flop-shod lowlanders feel emboldened to scale its sprawling flanks. People have even mountain-biked off Elbert's summit. Plus, the dirt road leading to the busiest north-side trailhead is smooth enough for two-wheel- drive sedans. But because 14,000-foot altitudes can trigger debilitating illness even in acclimated hikers—let alone ones that just drove in from sea level—Elbert is responsible for a shocking number of rescue incidents: In 2020, this single peak accounted for 35 percent of all search-and-rescue calls in the area (and that's in a county filled with so many towering summits and spires that its mean elevation is a lofty 10,790 feet). "People look at 4.5 miles [one way, on the easiest route from the North Mount Elbert trailhead] and think, 'I do that all the time,' " says local search-and- rescue member Becky Young. "But altitude changes everything, from how much you need to drink to how tired you'll feel. That makes it a little like Mount Kilimanjaro. It's not technical, but still a challenge," she adds.
And like Kili, Mount Elbert is worth notching, crowds be damned. When Young climbs it for fun (rather than for S.A.R. missions) she approaches from the mountain's south side, "which is by far the most beautiful way," she says. That route starts from Black Cloud trailhead, located near two U.S. Forest Service campgrounds (Twin Lakes and Parry Peak) that allow hikers to acclimatize with a night or more at Elbert's base.
A predawn start is the standard—hikers should retreat below treeline before afternoon lightning storms assault the summit—and the 5 miles (one way) of good trail gains 5,250 vertical feet. The final stretch includes a mile-long ridgewalk and even a bonus summit: Hikers top out on 14,134-foot South Elbert before gaining Elbert proper. Plus, this route sees a fraction of the throngs that approach from the northeast. Says Young, "You can wave to the conga line, because mercifully, you're not in it."
GEAR UP Snowstorms have been known to visit Elbert even in July and August, so pack a mountain-worthy rain shell: The three-layer Patagonia Storm10 ($299) buffers wind with 100 percent recycled nylon ripstop—but weighs just 8 ounces.
HAWAII
MAUNA KEA, 13,803 FEET
Measuring Mauna Kea's height from sea level, it's an impressively tall peak: Hikers log 6 miles (one way) and gain 4,500 vertical feet from the Visitor Information Center at 9,200 feet (a road to the top also serves the Mauna Kea astronomical observatories). But as a sea volcano, Mauna Kea isn't based on land like the other mountains profiled here. Its foot sits on the sea floor, 3.6 miles underwater—and measured from there, the mountain reaches 32,696 feet, arguably making it the tallest on earth.
To appreciate its entirety, in February 2021 adventurer Victor Vescovo piloted his submersible to the foot of Mauna Kea, 27 miles offshore. Then he and two companions paddled sea kayaks to land, bicycled 35 miles up the dormant volcano and reached the summit by foot. "She is just an immense mountain, and yet unlike the jagged Himalaya, very quiet and majestic in her form," says Vescovo, who's climbed the planet's seven highest summits.
At its base, Mauna Kea appears "very different from the usual rocks and plains of other deep areas," says Vescovo. The large slabs of pillow lava and its mounds of twisting, curving piles of basalt look "like a crazy dump of toothpaste on the bottom of the sea floor," he says. More surprises awaited Vescovo on top, which was covered with more snow and ice than is typical for Mauna Kea. "Not exactly something one expects on a mountain in Hawaii," notes Vescovo, who was nearly knocked down by the summit's ferocious wind. "I was wishing for my crampons as we scaled the last hundred feet, but we were able to kick steps into the snow and ice and . . . yes, it was a lot more intense, and cold, than I expected."
Many hikers, even ones who don't begin their journey on the sea floor, report the same surprise at discovering Mauna Kea's wintry upper reaches, which necessitate sturdy boots, a warm jacket and ample sun protection (thanks to its lofty elevation and low latitude, Mauna Kea's UV intensities are among the highest recorded anywhere in the world). Colorful rocks and cinder cones turn the stark landscape into eye candy. Some of their lichens are so rare, they're only found on Mauna Kea.
And a spur trail leads to Lake Waiau, the Pacific Basin's highest lake at 13,022 feet. These waters are sacred to native Hawaiians, as is the summit: It's considered disrespectful to stand on the very top, where the goddess Poli'ahu lives. Perhaps she's responsible for stealing Vescovo's chapeau. "Shrieking winds up top blew off my favorite hat, one I climbed Everest with," he says. "So it seems that she demanded a special offering from me to ascend to her sacred summit. I just smiled, let her have it and kept going up."
GEAR UP Ball caps sacrifice your ears and neck to Mauna Kea's roasting UV index, so choose the brimmed Fjällräven Abisko Summer Hat ($55). Its chin strap keeps it leashed amidst summit gusts, and waxed poly/cotton fabric fends off wind and rain without smothering your sweat.
OREGON
MOUNT HOOD, 11,250 FEET
Like a '68 Plymouth, Mount Hood is a badass brawler that's short on subtlety and all about power. "It's kind of a blue-collar mountain," says Cliff Agocs, an AMGA Alpine Guide who co- owns Timberline Mountain Guides and has summited Hood at least 100 times. "It's like the smallest of the big mountains, so it attracts people that are delving into mountaineering for the first time, but it's also steeper and harder than people expect."
As with many volcanoes, Hood's central plug of magma erodes more slowly than its flanks, so it actually grows slightly steeper over time—and currently, the summit pitches on Hood's easiest routes measure 45 degrees. "On a snow slope, that feels pretty real," says Agocs. Plus, Hood's proximity to the Columbia River places it in a fire hose of weather. "That valley acts like a superhighway for moisture off the Pacific, which slams into the mountain and creates some really cold, gnarly storms," Agocs explains. Hood's trademark is rime ice: Climbers often get coated with sparkly crystals that encase them in a glittery white shell. Then, once they penetrate the cloud layer at 9,000 to 10,000 feet, they're treated to a sunrise panorama that bests anything one might glimpse from an airplane window: The mountain rises alone above a heavenly blanket of fluffy batting.
Hood's prime climbing season typically runs from mid-May through mid-July, after the avalanche danger has quieted but before melting snow makes rockfall routine. The classic Hogsback route up the peak's south side spans 7 miles (one way) and 5,290 vertical feet; a midnight start is de rigueur. You'll want an ice axe, crampons and rope (and the skills to use them), plus a self-issued permit (available for free at the Wy'East Timberline Day Lodge). First-timers will find the south- side route to be spicy enough, but repeat offenders with ice- climbing savvy may want to explore Agocs' favorite springtime route up the Eliot Headwall on Hood's north side. "There's some really beautiful ice, about 150 feet tall, before you get to the mountain's north ridge," he says. "And the fun part is popping onto the summit and surprising everyone there from a direction that nobody expects."
GEAR UP Microspikes provide inadequate purchase on the veins of hard ice that hikers typically encounter on Hood's Hogsback route, so strap on Black Diamond's stainless steel Sabretooth Crampons ($190), with front points that bite into steep, slick slopes.
NEW HAMPSHIRE
MOUNT WASHINGTON, 6,288 FEET
The Northeast's highest peak may be shorter than Western all- stars, but it's still a spanker—in part because it's so mercurial. "On its calmer days it can be very alluring and sucks you in, then punches you in the head," says local hiking guide Steve Dupuis. He's summited Mount Washington in all seasons and shades of weather, along with all the White Mountain peaks exceeding 4,000 feet in elevation. But Washington's the one "with an attitude," says Dupuis. That's because it claims more above- treeline terrain than its neighbors, with about 2,000 vertical feet between the krummholz and the summit. Those vast barrens get slammed with some unique weather wizardry: On its summit, storms tracking east collide with northbound systems out of the south, and Washington's funnel-shaped west side intensifies the battle by accelerating the wind. For decades, Mount Washington held the world record for fastest surface wind ever recorded (a neck-snapping 231 miles per hour). That's big-league stuff.
The shortest and easiest route to the summit climbs through Tuckerman Ravine, where backcountry skiers come from April to June to carve their signatures on 40- to 60-degree snow slopes. June through October, hikers begin at the Pinkham Notch Visitor Center in Gorham to hike 4.2 miles and gain 4,300 feet to the summit. "That 4.2 miles is a massive void you're crossing," says Dupuis, noting that the valley generally enjoys flip-flop weather while the talus slopes see cold, wet wind for about 300 days a year. But on those 65 clear days? Hikers see a panoply of peaks, including New York's high
peak, Mount Marcy, 134 miles away.
Once you've completed the classic route, consider tackling one of the innumerable variations on the Mount Washington summit theme—including Dupuis' favorite route up the west side via the Ammonoosuc Ravine Trail (parking permit $5/day). That path parallels a series of waterfalls before leaving the trees near the Appalachian Mountain Club's Lakes of the Clouds Hut (where hut keepers sell scrumptious baked goods). From there, it's 1.4 above-treeline miles to the top of Washington. Craving even more? The Presidential Traverse links Washington with seven other mighty summits on a 22-mile point-to-point that's mostly above treeline. Dupuis has completed more than 100 of them—and notched 30 Prezis in winter, when the weather observatory on Mount Washington's summit routinely records temperatures of -35 degrees.
GEAR UP Ward off wintry weather—experienced year-round on Mount Washington—with the Mountain Hardwear Ghost Whisperer UL Jacket ($375). It packs to softball-size and weighs just 7 ounces, yet delivers whopping warmth thanks to 1,000-fill, certified-responsible down.