Jake Lah, the founder of DAC Poles, may dislike camping—but his genius with aluminum has turned him into the wizard behind many of the world's best outdoor shelters.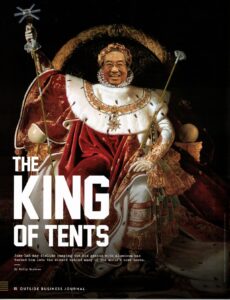 Walking into Dongah Aluminum Corporation (DAC) feels like stepping inside the lobby of a grand hotel: The soaring two-story ceiling creates plenty of space around the large-scale paintings and sculptures in marble and bronze. It's an art gallery, not the reception area you might expect in a factory that makes aluminum tubes and poles. And on all three floors, there are gardens filled with graceful bamboo, tranquil lilies, and apple trees that Jake Lah, DAC's founder, planted in 1988 to commemorate his company's launch. One garden even includes a koi pond with golden fish that shimmer in the sunlight, like DAC's gleaming rods of anodized aluminum. Like the rest of the factory, located in Incheon, South Korea, these poles defy expectation, because they routinely solve problems that tent designers, including other manufacturers, once believed to be unsolvable.
"I'm kind of a strange person," admits the 67-year-old Lah, whose irresistible smile lights up his entire face. "My wife kept telling me, 'You are not a normal person,' and just this last year I said 'Yes, maybe you are right.' What I've been doing just doesn't fit into the normal sense of things."
But if Lah had made a habit of embracing norms, the tent industry would look nothing like it does today. Lah's proprietary aluminum alloy—TH72M, or "M" for short—made backpacking shelters lighter by allowing for thinner pole walls with no loss of strength. His aluminum pole hub revolutionized tent architecture and facilitated designs that have since become mainstays (see the REI Half Dome, to name just one). Lah also masterminded an array of other clips and attachment points that streamlined tents' geometries and rewrote the rules for what aluminum scaffolding can do.
"He's been the man behind the curtain in our industry for something like three decades," says tent designer David Mydans, who retired in 2017 after 28 years with REI. Lighter weights, bigger interior volumes, better ventilation—all of these defining improvements to outdoor shelters have been fueled by Lah's innovations, and still are.
Click here to read the rest of the article for Outside Business Journal.